Garmin GDL® 52 Portable SiriusXM®/ADS-B Receiver - Pre-Order
Available for Pre-Order Only
Dual-frequency ADS-B "In" Receiver and SiriusXM® Satellite Link
Receive SiriusXM Aviation satellite weather and digital audio entertainment¹ plus subscription-free ADS-B U.S. datalink weather² and traffic
ADS-B "dual-link" traffic with TargetTrend™ and TerminalTraffic™ technology4
Wireless connectivity for display on select mobile device apps and Garmin portables
Provides GPS position data, backup attitude5 and more
Receive the first three-months of a monthly subscription to the SiriusXM Pilot Preferred aviation weather package and the SiriusXM All Access audio programming package at no cost with GDL 52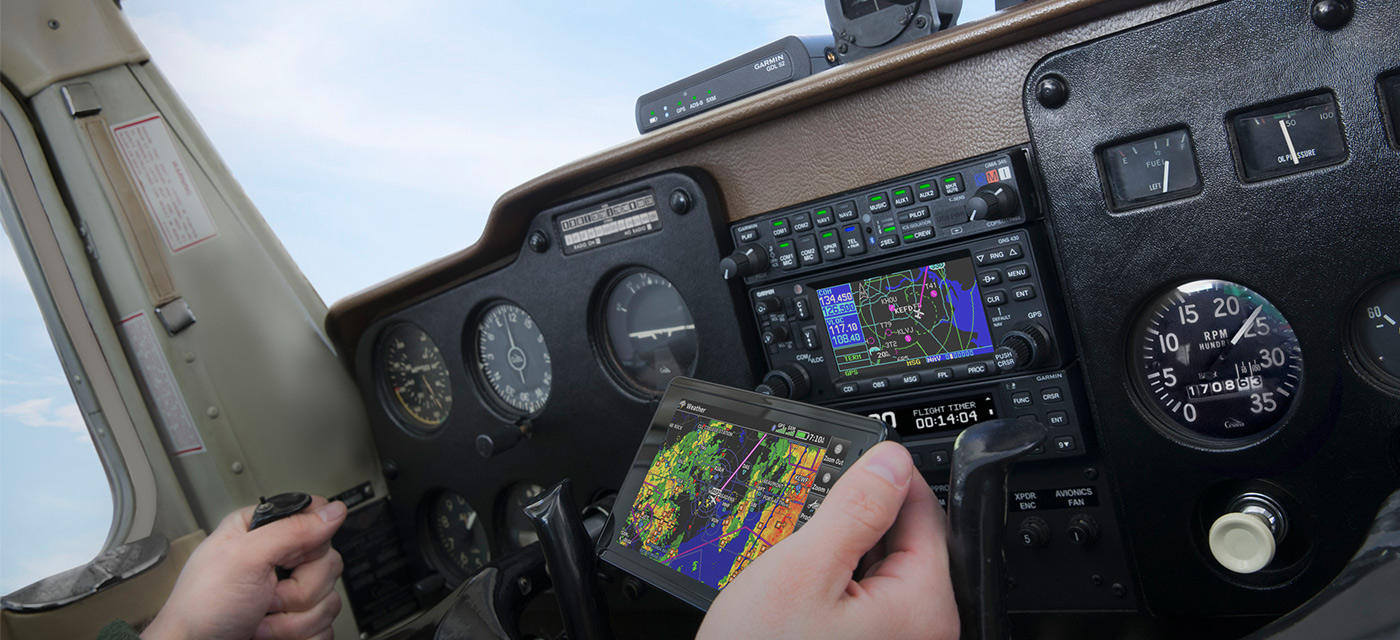 Providing an easy-to-use and completely portable aviation satellite link, the compact GDL 52 combines SiriusXM coverage — accessible from ground or air — with the subscription-free weather and traffic features of an ADS-B "In" datalink. Together, these 2 network link technologies bring a world of safety-enhancing features — plus access to more than 150 channels of digital-quality music, news, sports and other entertainment programming — directly to your cockpit. Better still, you can use our Connext® wireless connectivity to stream this information onto multiple Garmin aviation portables (including aera® 660, aera 796 or aera 795 series) as well as iPad® tablets and mobile devices with the Garmin Pilot™ app. So you get more access — on more devices — without spending more money.
The Ultimate Weather Watcher
Continuous SiriusXM satellite updates — accessible by ground and air — can help you make better, more timely flight decisions. The SiriusXM network's powerful satellites deliver seamless coverage across the continental U.S. and its coastal regions as well as southern Canada. (See coverage map.) Choose from available SiriusXM Aviation weather packages that provide METAR data and animated NEXRAD imagery plus current reports on precipitation, lightning, winds aloft, echo tops, turbulence, freezing levels, TFRs and more¹.
Alternatively, the GDL 52 portable receiver also provides subscription-free access in the U.S. to ADS-B Flight Information Service-Broadcast (FIS-B) weather information. With this, your compatible devices3 can display animated graphical weather plus METARs, TAFs, winds and temperatures aloft, PIREPs, NOTAMs and other features linked from ADS-B. And to help you maintain the most current weather picture, your GDL 52 receiver can queue the weather from ADS-B and/or SiriusXM while your display device is sleeping or turned off so it automatically updates when you turn the screen back on.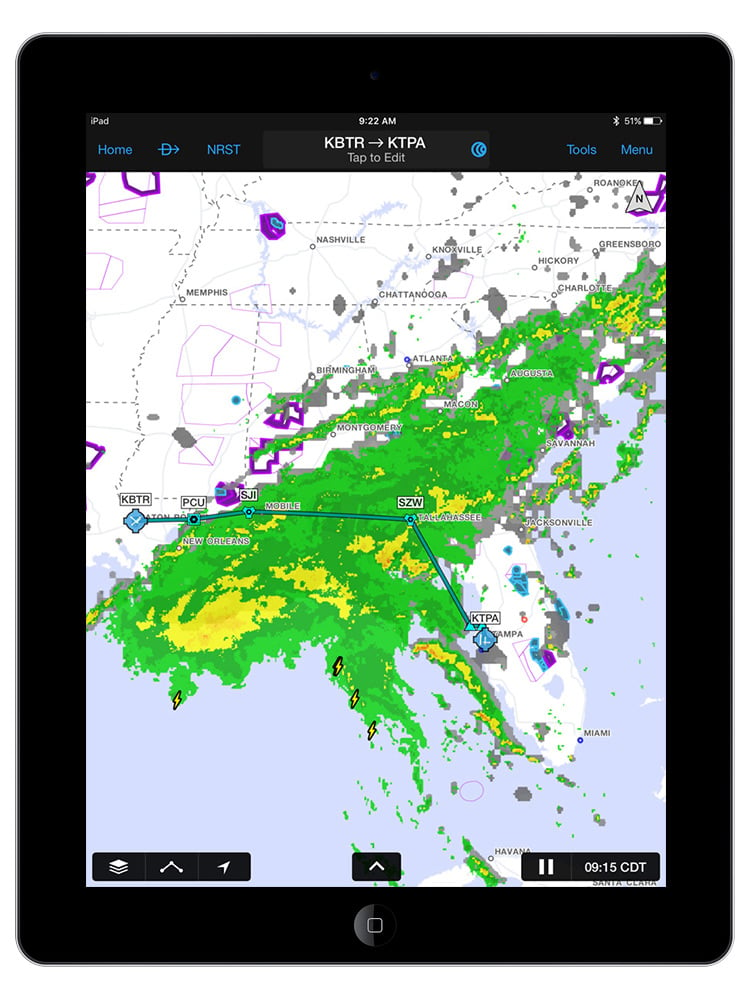 Great Sound Made Easy
By simply connecting a compatible Bluetooth® headset or audio panel to GDL 52, you can wirelessly listen to your choice of high-quality audio entertainment channels provided by SiriusXM¹. Volume adjustments and station selection may be accessed through your compatible Garmin aviation portable or mobile device app. If you prefer, a 3.5 mm stereo audio jack positioned on the side of your GDL 52 makes it easy to provide a hardwired audio out connection to an auxiliary device or audio panel in your aircraft.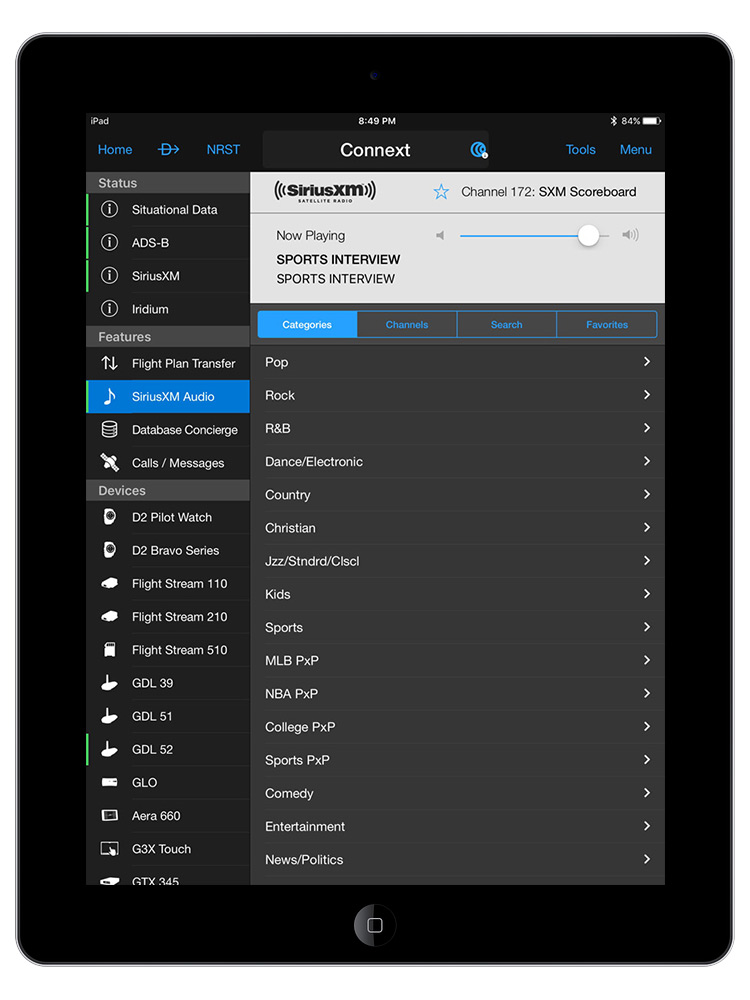 Spot Potential Traffic Threats
To aid in situational awareness, GDL 52 can also receive ADS-B position reports directly from other aircraft in your vicinity. In the U.S., 2 frequencies (978 UAT and 1090 ES) are approved by the FAA for ADS-B broadcasts, so GDL 52 offers access to both frequencies. This allows you to see the most comprehensive view of all ADS-B "Out" equipped targets in your vicinity. Your compatible display4 will alert you by announcing traffic targets both audibly and visually. Spoken audio alerts announce "Traffic, Traffic" to get you looking right away.
View Enhanced Traffic Features
To further extend your traffic monitoring capability (on compatible displays), the GDL 52 receiver also allows access to our TargetTrend relative motion tracking technology. This feature gives you a faster, more intuitive way to judge the direction and closure rate of intruding targets relative to your aircraft's position. So, rather than a fixed "snapshot" of the traffic situation, TargetTrend provides a more dynamic "velocity-based" display that shows which aircraft trajectories are most likely to converge with your own. For example, if traffic is ahead of you and traveling along the same track but at a slower rate, the motion vector would point opposite of its indicated direction of flight to show you are overtaking the traffic. The result — you're able to make faster, better target avoidance decisions.     
For airport operations, TerminalTraffic technology (a part of the comprehensive Garmin suite of Terminal Safety Solutions) enables ADS-B-equipped surface targets to be displayed on your device's SafeTaxi® diagram so you can see what's happening with traffic on busy runways and taxiways. ADS-B-equipped aircraft in-flight are easily distinguished from ground vehicles and taxiing aircraft, which are displayed using distinct colors and symbols. Thus, TerminalTraffic provides a clear, real-time overview of on-surface activity in the airport environment.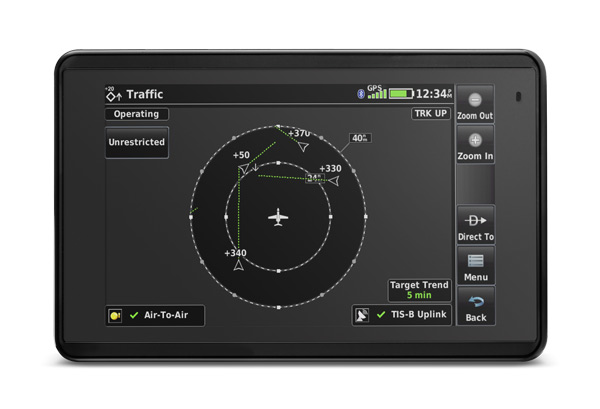 Built-in GPS and Attitude Sensors for SVX™ Display 
In addition to its weather, traffic and audio entertainment capabilities, your GDL 52 feature set includes a built-in WAAS GPS receiver. This enables GDL 52 to deliver highly accurate aircraft position, speed and altitude information to your compatible mobile device app. Also, built-in attitude sensors enable select Garmin aviation portables and apps with our SVX synthetic vision technology to serve as a backup attitude reference5 during your flights. With virtual terrain, obstacles, runways, horizon cues, HSI, GPS speed, altitude and more, this brings a whole new perspective to your portable navigation.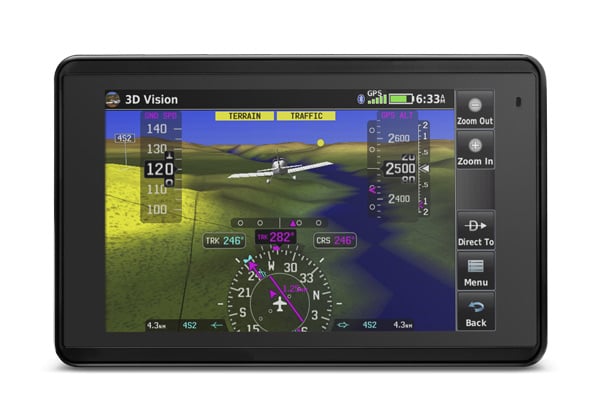 Battery Power for Hours
GDL 52 is a true go-anywhere device. A rechargeable built-in lithium-ion battery allows GDL 52 to operate for up to 5 hours on a single charge. And for operation connected to power, you can plug in via the included vehicle power cable or microUSB port positioned on the side of the receiver.
One Solution, Many Possibilities
For pilots who want the best in U.S. datalink weather coverage plus an impressive array of traffic, navigation and audio entertainment options, the GDL 52 portable receiver is the ideal 1-box, dual-network solution. With its versatile connections and compact size, you can even enjoy benefits of SiriusXM audio outside the cockpit — anywhere you want to drive, pedal or walk within the SiriusXM coverage area. And by going with Garmin, your receiver will be backed by a comprehensive 1-year warranty — and by the industry's No. 1-ranked product support team.
GDL 52 is a noncertified receive-only product. It does not provide ADS-B "Out" capability to satisfy FAA mandate requirements.
¹Subscription required and sold separately. See SiriusXM.com/aviation for details. Not all SiriusXM weather products may be available across all devices. Check your Pilot's Guide for specifics about which products are available on your device
²Not all ADS-B weather products may be available across all devices. Check your Pilot's Guide for specifics about which products are available on your device
³View our growing list of compatible devices
4Audible traffic alerting, TargetTrend and TerminalTraffic require compatible displays. Check your Pilot's Guide for specific capabilities available on your display
5The attitude information provided by GDL 52 is not intended to be a source of attitude information for flight in instrument meteorological conditions